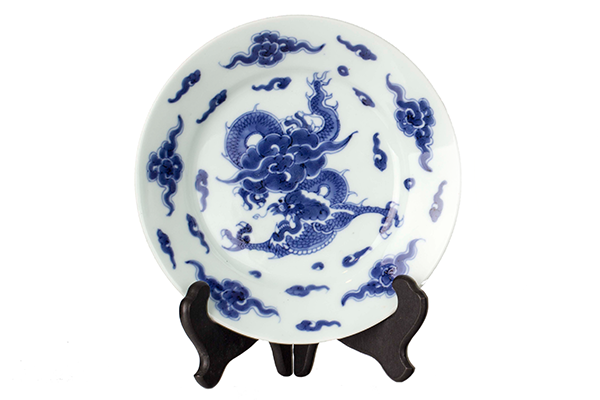 Intricate Blue & White (Qinghua) Porcelain Plate with "Dragon in Cloud" Design
The sign at the back reads imperial way and is believed to have been made for the King, presumably Qian Long [1735-1799], during the Qing dynasty [1644- 1911].

LEARN MORE ABOUT THIS PLATE
Antique Porcelain Plate with Landscape Design
This porcelain piece portrays an interesting scenic view of mountains and flowing water. This pieced is believed to be made by a relatively new artist during the Republic period.

LEARN MORE ABOUT THIS PLATE
Pair of Qing Hua Ci Plates
A pleasing combination of blue underglaze with a white ceramic base, this pair of Qing Dynasty "houses and potted plants" blue-and-white porcelain plates are one of the classic china pieces that remain timeless in different cultures and eras.

LEARN MORE ABOUT THIS PLATE